Lohmann: Graphic designers have been active for almost 70 years
Lohmann gained access to the printing industry with their graphic products In the 1950s. At that time, no-one could have imagined that it would become a success story lasting almost 70 years.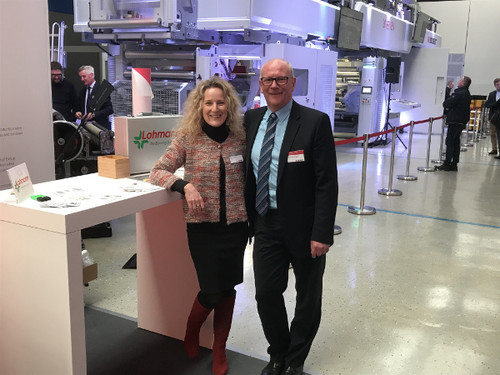 Today, not only a comprehensive range of flexographic printing products exists, but an extensive service and knowledge transfer is available to the customers, based on decades of expertise. Lohmann's Flexperts maintain a close relationship to the industry, for example to printing press manufacturers, and are internationally present at trade fairs and conferences. The objective is always to help customers achieve true works of printing art, with the aid of the art of printing.
In February for example, they gladly accepted the invitation from printing press manufacturer BOBST to participate with their own booth at their open house event in Bielefeld. BOBST had invited numerous guests from leading manufacturers and processors in the packaging industry to the premiere of the new 20SEVEN central cylinder flexographic printing machine and were delighted that with 400 participants, all expectations were exceeded. Silvia Casellato, Senior Market Manager Graphics at Lohmann emphasized: "We gladly accepted the invitation of BOBST, also in order to consolidate our long and excellent cooperation. In addition, we met many of our customers during the open house event and used the opportunity for intensive professional exchange. Many thanks to BOBST, and congratulations on the successful event!" Another activity of the Flexperts was the participation in the ProFlex trade fair in March in Stuttgart, which annually offers a varied program for the flexographic and packaging printing industry. This year's focus was on current technical questions and future topics in the industry. Together with the companies Dortschy, Zecher and Polywest, the Lohmann Flexperts were delighted to be available to the visitors at the in-house exhibition for technical discussions. Incidentally, in the meantime, more than 60 years of partnership have linked the two companies Lohmann and Dortschy. The close and trusting cooperation between the two companies became particularly evident with the support provided to the numerous customers at the event.
Caption: Silvia Casellato, Lohmann and Jörg Linnenbrügger, Area Sales Manager BOBST Bielefeld GmbH