Revolutions in flexo launched in Florence: Lohmann's FLEXperts at BOBST's Open House Event
From April 1-4, a series of true flexo revolutions will be launched in Florence, Italy.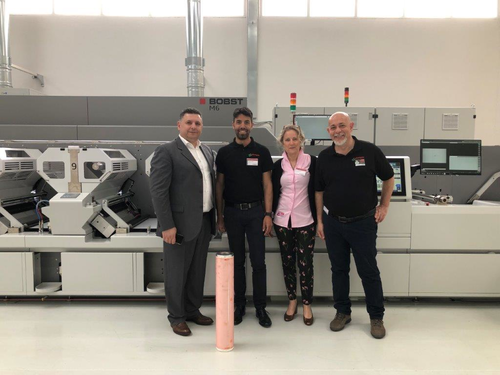 BOBST, one of the world's leading suppliers to the packaging and label manufacturers, will be hosting an open house event, organized in collaboration with the members of the REVO project and Mouvent (a BOBST Group company focused on digital print). Lohmann's FLEXperts, as proud supporters of the project and official REVO partners, will attend the event as the only adhesive tape manufacturers.
Created in 2013, REVO is a team consisting of companies in the labels and packaging industry who have been working on a "Digital Flexo REVOlution": The aim was to digitalize the whole flexo printing process by establishing new standards for the label and packaging production.
Mission accomplished: The pioneering technologies to be presented at the open house consist, according to BOBST, of five world premieres. Apart from two end-to-end systems three breakthrough innovations shall revolutionize color consistency, safety and speed of the printing process. No matter if managing jobs from one single label to one million labels, print to reprint, production in one country to many countries with the best color consistency of any pantone at the lowest possible costs – all this will be demonstrated in Firenze at the beginning of April. Each day, there will be short presentations, technology sessions and demos on the market's largest label portfolio. Digital and flexo presses as well as according equipment – designs, plate making, color control, cloud – will also be presented by suppliers of the industry. The FLEXperts will be among them, showcasing Lohmann's well-established DuploFLEX® plate mounting tapes and, for the first time, the innovative method of optimizing the pretreatment of flexographic plates.