Lohmann launches self-adhesive electrically conductive foams
Lohmann, a leading manufacturer of functional high-tech adhesive tapes, presents the latest addition to its portfolio: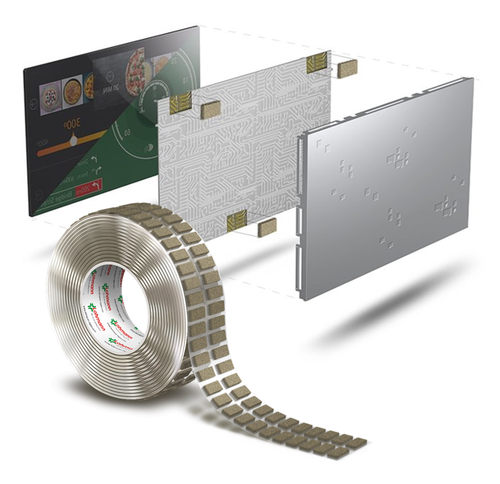 two electrically conductive, single-sided adhesive foams for simple grounding or contacting of electronic components (for low currents), including in the fields of e-mobility, medical technology, printed electronics or smart homes.
With their innovative Functional Materials product range, the adhesive specialists have been supplying solutions for many years that offer additional functions beyond the bonding of components and thus provide the appropriate answers to the rapidly advancing digitalization and miniaturization. For example, the adhesive solutions enable reliable sealing, damping, blocking of visible light or electromagnetic shielding and thus the trouble-free functioning of electronic devices throughout their entire service life.
The two new products DuploCOLL® 28502 EC and DuploCOLL® 28504 EC (Electrically Conductive) expand Lohmann's portfolio of electrically conductive adhesive tapes. The construction of a soft, electrically conductive foam and an acrylate adhesive that is also electrically conductive ensures grounding and reliable, precisely fitting bonding of the tape within the component. The single-sided adhesive tapes are available in 2 and 4 mm thicknesses and are easy to die-cut and apply. The high-tech foams are technically adjusted so that the restoring force when the foam is compressed is so low that it can also be used on pressure-sensitive components without undesirable side effects, such as the mura effect in a display.
Along the entire value chain, from the formulation of the adhesive to individual product modification, high-precision die-cutting and process integration, Lohmann's adhesive engineers are on hand to support their partners in the industry. With a 100% green power production at the headquarters in Neuwied, Germany, Lohmann offers especially European customers the advantage of a low CO2 European supply chain.
For more information, please contact electronics@lohmann-tapes.com