Sustainable tapes: Lohmann launches biobased, solvent-free tape portfolio with recyclable liners
As part of its own sustainability strategy, the long-established company Lohmann is driving forward sustainable adhesive technologies.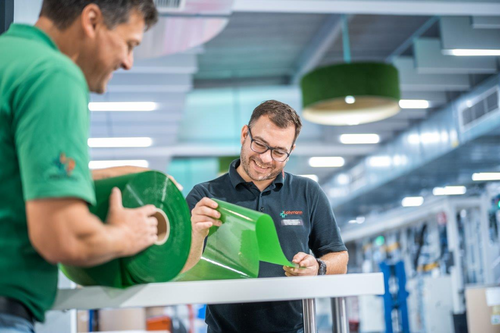 The latest development by the adhesive engineers contributes to reducing the CO² footprint on several levels: The new Duplo
COLL®
ECO
adhesive tape portfolio contains newly developed, biobased adhesives, is solvent-free and features recyclable liner systems that can be returned to the regular circular economy. The products are manufactured using Lohmann's 100% solvent-free TwinMelt® technology, a coating process that enables adhesive tape production with low energy consumption and reduced CO² emissions. The energy required within the manufacturing process at the main production site in Neuwied is completely covered by renewable energies.
"With the ECO portfolio, we support our customers in making their individual production process even more sustainable. And this with the usual reliable performance: good initial adhesion, excellent cold-bonding properties, and good adhesive strength on high- and low-energy surfaces," says Sascha Rakhsh Bahar (Head of Sales Projects at Lohmann). The tapes have high aging resistance and can be used on recycled substrates such as cardboard or corn starch-based materials.
For different applications in various industries in foam and felt materials, laminating products or the production of special labels, the products of the ECO range are available as transfer tapes, double-sided scrim tapes or with special paper carriers, on jumbo or log rolls.